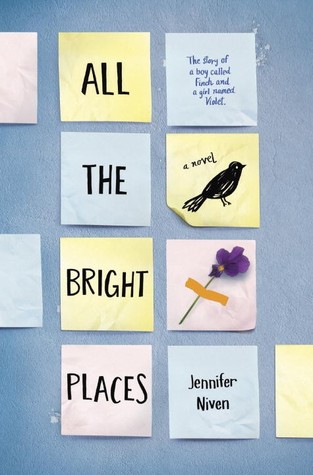 All the Bright Places by: Jennifer Niven
My rating: 1 of 5 stars
The Fault in Our Stars meets Eleanor and Park in this exhilarating and heart-wrenching love story about a girl who learns to live from a boy who intends to die.
Soon to be a major motion picture starring Elle Fanning!
Theodore Finch is fascinated by death, and he constantly thinks of ways he might kill himself. But each time, something good, no matter how small, stops him.
Violet Markey lives for the future, counting the days until graduation, when she can escape her Indiana town and her aching grief in the wake of her sister's recent death.
When Finch and Violet meet on the ledge of the bell tower at school, it's unclear who saves whom. And when they pair up on a project to discover the "natural wonders" of their state, both Finch and Violet make more important discoveries: It's only with Violet that Finch can be himself—a weird, funny, live-out-loud guy who's not such a freak after all. And it's only with Finch that Violet can forget to count away the days and start living them. But as Violet's world grows, Finch's begins to shrink.
This is an intense, gripping novel perfect for fans of Jay Asher, Rainbow Rowell, John Green, Gayle Forman, and Jenny Downham from a talented new voice in YA, Jennifer Niven.
Edit: After I posted this review I was told by two dear GR friends that Theodore has a condition. Which would explain his actions in the beginning of the book. I did not realize this until they pointed it out. It is revealed in the book but I didn't make it that far. Please ignore everything that I have mentioned about Theodore.
Beware spoilers ahead!
DNF
I had heard about this book a year back. Deciding that I wanted to read some of the books my friends were talking about I decided to give it a go. Unfortunately I did not enjoy this.
The book begins with Theodore committing suicide. His plans to jump off the roof of his high school. He stands there contemplating his life for a bit. Then he screams that he is going to commit suicide. Nobody seems to believe him. They all seem to think that he's a freak.
He then takes notice of a girl who is also on the roof. He talks for a bit. And successfully scares her. He then shows her how to come off the roof. Said girl then gives him the same instructions and he comes off.
I'm going to stop right there. Now the reason that I didn't enjoy it was because it was weird and once he started talking to Violet (girl on the roof) it didn't really feel like he wanted to commit suicide. It felt like some big joke. Which might be because Theodore is quite dramatic. And I couldn't bring myself to continue. I might actually try the author's upcoming book. But we'll see.
Overall I didn't enjoy this. I cannot bring myself to recommend this.