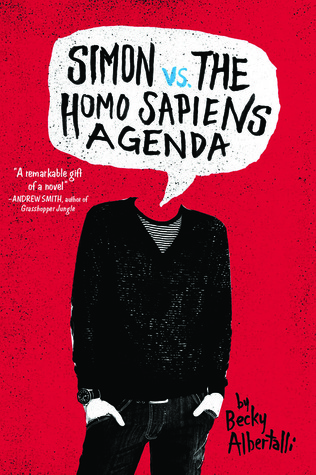 Simon vs. the Homo Sapiens Agenda by: Becky Albertalli
My rating: 2 of 5 stars
Sixteen-year-old and not-so-openly gay Simon Spier prefers to save his drama for the school musical. But when an email falls into the wrong hands, his secret is at risk of being thrust into the spotlight. Now Simon is actually being blackmailed: if he doesn't play wingman for class clown Martin, his sexual identity will become everyone's business. Worse, the privacy of Blue, the pen name of the boy he's been emailing, will be compromised.
With some messy dynamics emerging in his once tight-knit group of friends, and his email correspondence with Blue growing more flirtatious every day, Simon's junior year has suddenly gotten all kinds of complicated. Now, change-averse Simon has to find a way to step out of his comfort zone before he's pushed out—without alienating his friends, compromising himself, or fumbling a shot at happiness with the most confusing, adorable guy he's never met.
Beware spoilers ahead!
DNF
This book was recommended to me by my dear GR friend Lola! When Lola first recommended this book to me last year I was hesitant. I thought that I wouldn't enjoy it because up until that point I had never read a book with M/M romance. Then one day I read the synopsis and I liked how it sounded. I also wanted to try reading some M/M romance so I added. Unfortunately I didn't enjoy this.
The book begins with Martin talking to Simon. Martin is one of Simon's classmates and up until the beginning of the book they have never talked to each other. Martin then reveals that he knows Simon is gay. Simon is absolutely stunned as Martin explains that Simon forgot to log off the computer that Martin just used.
Martin then asks whether Simon is friends with Abby. Simon replies that yes they are friends. Martin then asks whether Simon can put in a good word for him. Simon does not want to until he realizes that Martin is going to blackmail him if he doesn't. Having no choice but to agree the two separate.
I'm going to talk about the things that I liked first. I really felt for Simon. It was really sad that he forgot to log out and is now being blackmailed. I liked Simon's friends and Simon himself.
I really did not like the writing style. It was so awkward to read that I just couldn't continue. This probably would've been better had I read it out loud or listened to the audio. But my library didn't have the audio. I think it was just one of those books that would sound better if you heard it rather than read it.
Overall I didn't enjoy this. I am happy that I read it because now Lola will be appeased and I can now say that I would like to read some more M/M romances. I still recommend it. And if this does become a movie I am definitely watching it.