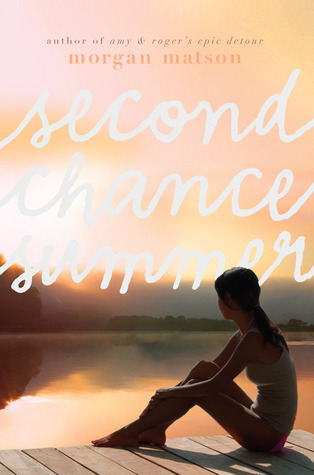 Second Chance Summer by: Morgan Matson
My Rating: 3 of 5 stars
From the Flying Start author of Amy & Roger's Epic Detour, a powerful novel about hope in the face of heartbreak.
Taylor Edwards' family might not be the closest-knit—everyone is a little too busy and overscheduled—but for the most part, they get along just fine. Then Taylor's dad gets devastating news, and her parents decide that the family will spend one last summer all together at their old lake house in the Pocono Mountains.
Crammed into a place much smaller and more rustic than they are used to, they begin to get to know each other again. And Taylor discovers that the people she thought she had left behind haven't actually gone anywhere. Her former best friend is still around, as is her first boyfriend…and he's much cuter at seventeen than he was at twelve.
As the summer progresses and the Edwards become more of a family, they're more aware than ever that they're battling a ticking clock. Sometimes, though, there is just enough time to get a second chance—with family, with friends, and with love.
Beware spoilers ahead!
Last year when I read Matson's book Amy and Roger's Epic Detour I fell in love with the author! I decided to read every book that she's written. Hence my reading this book. And I am happy to say that I enjoyed it!
The book begins with Taylor trying to escape her house. She runs into her sister and brother before finally getting away. When she's out of her house she sees a neighbor and the two talk. And she realizes that she will likely get caught because said neighbor is bound to tell her parents that they talked to each other.
Her father finds her and the two go out for breakfast. You are then told that Taylor's father has pancreas cancer. Level four cancer. The doctors have predicated that he'll die in three months.
Her father has decided to spend the last few months of his life in their summer lake house. At Lake Phoenix. Taylor does not want to go back because that means she'll have to face her ex-best friend Lucy and her ex-boyfriend Henry.
Taylor has the tendency to run whenever a situation becomes too hard to face. Hence the beginning of the book. Where she's trying to escape their summer vacation. You don't find out what happened between Lucy and Henry until much later on. Which is Matson's style. And most contemporaries.
I liked how close Taylor and her father were! It was so sweet to read about their interactions. I also loved how during their stay at Lake Phoenix Taylor and her family become really close.
I liked reading about how all the characters developed during the book. It was nice that Taylor saw her father as an inspiration and because of their relationship she started to try and stop running from situations. I nearly cried at that letter that Taylor's father left for her.
I was happy when Taylor made up with Lucy and Henry. It was nice that she had Lucy in her life. Although their friendship is definitely not my favourite female friendship.
As par Matson's style the romance was slow burn which is my favourite type of romance! It was interesting to read about Taylor and Henry as friends and then later developing into something more.
Of course I liked Matson's writing style! I liked how the book was divided into parts that were signficant to those sections of the book.
Onto the things that I didn't like. I found this book to be way more dramatic than Amy and Roger. Everywhere Taylor went she was hit with a lot of hate. In the beginning of the book her father suggests she gets a job. She got a job where Lucy works. Lucy treated her horribly as did most of her coworkers. The only one that was nice to her was Elliot.
When Henry and Lucy both see Taylor they act as if she doesn't have a right to come back to her cottage. Yes she hasn't been there for years and it was to avoid them but that doesn't mean she can't come back. They acted as if she was going to pretend that nothing had happened between them. And she didn't do that.
I was also surprised when I found out that Taylor and Henry dated when they were 12 years old. I know that people do that but it makes me very uncomfortable. And personally I didn't see the appeal in Henry. While I admit that he was nice to her and willing to be friends I just didn't like him. Although I can't deny that he was good for her.
It isn't until the second half of the book that Taylor starts focusing on her father. The first half was trying to put up with seeing Henry and Lucy everywhere. And the drama that came with running into them. I was really surprised by that. I thought that her father would be the main focus of the book. Nonetheless I still enjoyed this book!
Overall I liked this book! I recommend it to contemporary fans, fans of the author, and anyone looking for a good summer read.