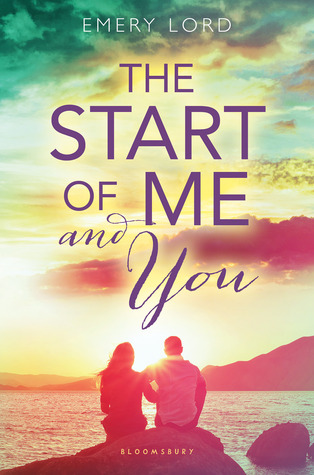 The Start of Me and You by: Emery Lord
My Rating: 2 of 5 stars
Following her pitch-perfect debut Open Road Summer, Emery Lord pens another gorgeous story of best friends, new love, & second chances.
Brimming with heartfelt relationships and authentic high-school dynamics The Start of Me and You proves that it's never too late for second chances.
It's been a year since it happened—when Paige Hancock's first boyfriend died in an accident. After shutting out the world for two years, Paige is finally ready for a second chance at high school . . . and she has a plan. First: Get her old crush, Ryan Chase, to date her—the perfect way to convince everyone she's back to normal. Next: Join a club—simple, it's high school after all. But when Ryan's sweet, nerdy cousin, Max, moves to town and recruits Paige for the Quiz Bowl team (of all things!) her perfect plan is thrown for a serious loop. Will Paige be able to face her fears and finally open herself up to the life she was meant to live?
Beware spoilers ahead!
DNF
I had heard about this book a year ago. It sounded interesting and I added it. I was pretty pleased when I found out that my library had a copy and requested it. Unfortunately I didn't like this book.
The book begins with Paige as she tells the readers that her boyfriend drowned a few months prior to the book. Since then people have been giving her pity looks and constantly asking how she is.
This annoys Paige as a woman approaches her at her job and gives her the look and asks how she is. In front of her long time crush Ryan. She says that she is fine and the woman leaves. Ryan understands what Paige is going through and the two have a heart-to-heart. Before Paige starts feeling guilty that she is getting butterflies in her stomach when it's only been a few months since her boyfriend drowned.
Paige decides to make a plan so that people will stop giving her the look and asking about her. She wants to make her senior year the best year. When school begins she gets the lucky chance to sit with Ryan. For the next few weeks they converse a little bit.
Paige gets word through her english teacher that Quiz Bowl is looking for one more member. Deciding to full-fill the 'join a club' goal she joins.
I went back-and-forth during this book. At first it really bothered me that she had a crush on Ryan. She explains that it was a childhood crush. Now what surprised me was the fact that despite said crush she still ended up dating her boyfriend. It's not really explained in the book whether or not she moved on from Ryan while she was with her boyfriend.
And then I found it odd that one of her goals was to start dating again. I understood that she was tired of being dubbed 'the girl with the dead boyfriend' but to me it didn't seem like she was ready to date someone. It just a goal to appease people into thinking she was fine. And you shouldn't have to do that for other people.
After some thinking I decided to give it a go again because I liked reading about Paige and her journey. But as I read on I couldn't bring myself to really enjoy this. So I just dropped it.
There were some things that I did like though. I loved Paige's relationship with her friends! And how Paige was taking small steps to be happy. The writing style was also nice. But none of these likes could save the book for me.
Overall this book wasn't for me. I do still recommend it because it seems like a really good story.