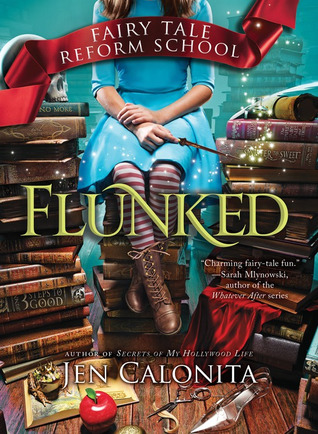 Flunked by: Jen Calonita
My Rating: 1 of 5 Stars
Would you send a villain to do a hero's job? An exciting new twisted fairy tale series from award-winning author Jen Calonita.
Full of regret, Cinderella's wicked stepmother, Flora, has founded the Fairy Tale Reform School with the mission of turning the wicked and criminally mischievous into upstanding members of Enchantasia.
Impish, sassy 12-year-old Gilly has a history of petty theft and she's not too sorry about it. When she lifts a hair clip, she gets tossed in reform school-for at least three months. But when she meets fellow students Jax and Kayla, she learns there's more to this school than its sweet mission. There's a battle brewing and she starts to wonder: can a villain really change?
Beware spoilers ahead!
DNF
This book was recommended to me by my GR friend Irena! I was really looking forward to reading this book! I loved how the synopsis sounded and I am always on the hunt for a good fairytale retelling. Unfortunately I really did not like this book.
The book begins with an announcement about how Cinderella's stepmother founded the school and it's high success rates. You are then taken to Gilly who is going to rob some blonde girls hair pin.
Gilly's been following the blonde girl and her friends for awhile now. As far as she's concerned they're all stupid because they like fashion. Once the girls make their way into a store Gilly sees this as her chance.
Gilly and the girls enter the store. She pretends to be looking at some scarfs so that the owner doesn't find her suspicious. She then makes her way over to the blonde girl and talks to her for a bit. Then tricks her into leaving her hair pin on the table. The girl forgets all about her hair pin allowing Gilly to steal it without getting caught.
I really did not like the writing style or Gilly! I found the writing style to be very childish. Gilly was annoying and thought that she was all that. She was very rude when judging those girls. Thus I dropped this book.
Overall this was not a good book. I do not recommend it.