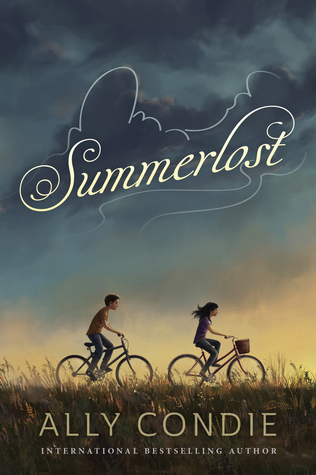 My Rating: 2 of 5 Stars
It's the first real summer since the devastating accident that killed Cedar's father and younger brother, Ben. But now Cedar and what's left of her family are returning to the town of Iron Creek for the summer. They're just settling into their new house when a boy named Leo, dressed in costume, rides by on his bike. Intrigued, Cedar follows him to the renowned Summerlost theatre festival. Soon, she not only has a new friend in Leo and a job working concessions at the festival, she finds herself surrounded by mystery. The mystery of the tragic, too-short life of the Hollywood actress who haunts the halls of Summerlost. And the mystery of the strange gifts that keep appearing for Cedar.
Infused with emotion and rich with understanding, Summerlost is the touching middle grade debut from Ally Condie, the international bestselling author of the Matched series, that highlights the strength of family and personal resilience in the face of tragedy.
Beware spoilers ahead!
I received this E-Sampler via Penguin Young Readers Group and Netgalley in exchange for an honest review.
DNF
I was really excited when I heard that Ally Condie (who wrote the Matched series) would be publishing her first middle grade book! I was even happier when I got an email from Netgalley about the sample. Unfortunately I will not be reading the whole book. Which is why I have marked this book as 'DNF'.
The book begins with Cedar and her family when they move into their new summer house. Her father and brother passed away last summer and her mother has decided to buy a house close to their family members. Cedar and her other brother Miles are happy about this because they like their Grandparents and Uncle Nick. And they can all talk about Ben and their father together.
While Cedar is sitting on the porch she sees a boy about her age riding a bike dressed in peasant clothes. She finds this odd but the boy rides off before she can even talk to him. Her mother comes and ushers Cedar into the house.
Over the next few days Cedar spends some time with her family. She and Miles play some games. And their family members come to visit. Cedar still sees the boy on the bike passing by. At the end of the sample Cedar decides to follow the boy.
The only reason I won't be reading the whole book is because of the writing style. The first time I read it the writing style sounded broken and the topic changes were weird. I didn't understand how this could be because I loved Condie's writing style in Matched. I read it two more times. While it sounded a bit better the writing style still bothered me. And I cannot bring myself to read the whole book.
However I did enjoy some things. I liked the relationship that Cedar had with her family. When it came to deciding rooms Cedar chose the room with a diamond window because the other room had a window seat and her mother loves window seats. I also liked how Cedar describes that her family is against labeling other people because it hurt Ben. It was really sweet. Unfortunately this was not enough to save the book.
Overall this was not a bad sample, just not well written. However I still recommend it. This sounds like a really sweet story with an emphasis on family and friendship.