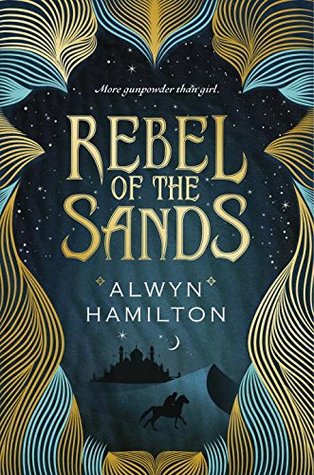 Rebel of the Sands by: Alwyn Hamilton
My Rating: 2 of 5 Stars
Mortals rule the desert nation of Miraji, but mythical beasts still roam the wild and remote areas, and rumor has it that somewhere, djinn still perform their magic. For humans, it's an unforgiving place, especially if you're poor, orphaned, or female.
Amani Al'Hiza is all three. She's a gifted gunslinger with perfect aim, but she can't shoot her way out of Dustwalk, the back-country town where she's destined to wind up wed or dead.
Then she meets Jin, a rakish foreigner, in a shooting contest, and sees him as the perfect escape route. But though she's spent years dreaming of leaving Dustwalk, she never imagined she'd gallop away on mythical horse—or that it would take a foreign fugitive to show her the heart of the desert she thought she knew.
Rebel of the Sands reveals what happens when a dream deferred explodes—in the fires of rebellion, of romantic passion, and the all-consuming inferno of a girl finally, at long last, embracing her power.
Beware spoilers ahead!
DNF
I had heard about this book back in December. At the time I didn't think much of this book. After deciding to read the synopsis I was sold! I love the idea about Middle Eastern books! I was ecstatic when I got to read a sample from the publisher! Unfortunately after awhile I choose not to read the whole book.
The book begins with Amani with attending a shooting competition dressed as a boy. The winner gets a lot of money. And Amani needs the money to leave town. Just last night she overheard her Uncle saying that if Amani continues to live with them then he wants to marry her. She wants nothing to do with him and would rather leave town. Problem is she needs the money. Hence entering the competition.
She gives all her saving to enter the competition. During the competition she meets a foreigner. The foreigner seems nice enough and is quite the competition. As they continue the competition Amani thinks she's got it in the bag. Her only real competition is the foreigner.
During the break the foreigner reveals to Amani that he did try competing earlier and won. But because the people who hold the competition didn't want to loose any money, they fought him. He made it out fine and is still competing because he also needs the money. Amani asks why he's telling her all this, the foreigner says that because she's too young to be getting into this mess. He assumes that she's 13 years old. She tells him that she is not going to flee as she needs the money as well.
After reading the sample I was so impressed! I loved how the author wrote the competition and that when Amani meets Jin it wasn't insta-love. I was convinced that I would love the whole book to bits and pieces.
A few months had passed since I read the sample and I started to loose interest. For one thing after reading the sample I couldn't see how this would be a fantasy. It seemed more like a Western story than a fantasy and Middle Eastern one. I still kept it on my shelf convinced that once I read the book this would all change. As time continued to go by I had no interest in the fantasy aspect. I realized that I didn't want this book to be a fantasy. I would have much rather read a Western story. And I couldn't bring myself to read the whole book. I would spend so much time thinking about how this isn't what I wanted and that would take the fun out of the story.
Overall I didn't like the idea behind this book. But I still recommend it as many other people have enjoyed it.