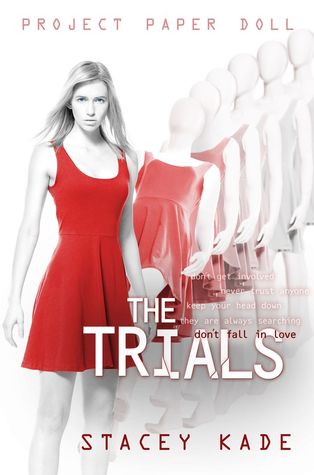 My Rating: 4 of 5 Stars
After being on the run, Ariane Tucker finds herself back where she started—under the cruel control of Dr. Jacobs, head of the research facility that created her. Now she must participate in the upcoming trials; a deadly competition pitting her against other alien hybrids, each representing a rival corporation.
But Ariane is no one's weapon. She is prepared to die if it means taking down those involved in Project Paper Doll. They destroyed all that she holds dear, including Zane Bradshaw, the one person she trusted and cared for the most—the person she was forced to leave behind, bleeding and alone.
As her plan takes shape Ariane will need to depend on, now more than ever, the other side of her heritage—the cold, calculated instincts born from her alien DNA. With Zane gone she has nothing left to lose.
With heart-pounding action, and plenty of surprises, the gripping conclusion to Stacey Kade's Project Paper Doll series delivers a powerful finish that will keep fans hooked to the very end.
Beware spoilers ahead!
Ever since I read Kade's former series The Ghost and the Goth I have been a fan of hers. Last year I decided to actually get into this series. After reading the sequel I couldn't wait to read this book! I am happy to report that this was a great book!
The book begins with a prologue in Ariane's point of view. She's at GTX and now has to enter the trials. In order to do so she temporarily stops a soldiers heart. At this point she is listening to everything Dr. Jacobs tells her to do. When Ariane reaches the trials she will find a way to destroy the trials and anyone else who ran it. Even if it means she'll die in the process.
You are then taken to the first chapter which takes place a month after The Hunt. Ariane is doing sit-ups. She's started some hardcore training for the trials. And in the background Rachel is ranting. Apparently she now works as Dr. Jacobs intern. Rachel basically gets paid to 'watch' Ariane. Ariane assumes that Dr. Jacobs has set this up as a way to get a reaction from her.
Ariane tries her best to tune Rachel out. But eventually she stops what she's doing and responds to Rachel's rant. Which prompts a nasty reaction from Rachel. Almost like she thought that she was talking to walls. The two of them get in a bit of a fight. Then Dr. Jacobs arrives with Rachel's money.
Once Rachel leaves Dr. Jacobs tries asking Ariane what was their fight about. She doesn't give him an answer and instead he decides to talk about the trials. They'll begin a week from where chapter starts. And it's taking place in California. Aside from that Dr. Jacobs does not know anything. Everything else is on the down low. The next day Dr. Jacobs wakes Ariane up and has her get ready. It is revealed that the trials are taking place early.
This book was so good! Even better than the sequel! It was much darker than The Hunt. And there was way more action. From the minute Ariane reaches the trials it's a roller coaster of emotions and action. There were high revelations! And some character deaths.
The character arcs were very well done in this book! Ariane wants to go through and find a way to stop the trials from ever happening again. If that means she'll have to die along with the people who run it and the competitors, she's content with that. Ariane believes that she isn't meant to live a very long life. And that everything in her life has lead her up to this moment. Surprisingly it wasn't annoying to read about the fact that she gave up on living. While it was sad that she thought that way I understood her reasoning. Zane's finally found a way to not be useless. He's now just like Ariane. And he feels great. Throughout the book he constantly tells himself and Ariane that he's happy with how he is only to find out that having abilities isn't all that cracked up to be. I enjoyed reading about Zane. It was interesting to see him change his mind and come to few a realizations.
We are introduced to a few new characters. It was actually pretty cool to read about Dr. Emerson John. I can't really say that about the other characters because I didn't like them. Dr. John's research was fascinating as well as his take on the hybrids. Ford and Carter came in along with Rachel. I really loved Carter and Ford. There brother and sister relationship was sweet to read about. While I still don't like Rachel I understood her more and really felt for her.
It was interesting to read about the trials. I truly did not expect it all to go down the way it did. I loved how throughout the whole book it was questionable whether or not the hybrids are all evil based on their genetic make-up and the reason's behind their creation. The Good or Evil theme was pretty cool! The ending was realistic considering the characters and their situations. While it isn't the happiest ending I understood why it had to end that way.
I gave this a four star because while I love the series I simply did not love this book. I felt that there should've been some more strings to be tied up. But alas it was still a good conclusion.
Overall this was a good conclusion to the series! I recommend it to fans of light-hearted Sci-Fi and fans of the author.