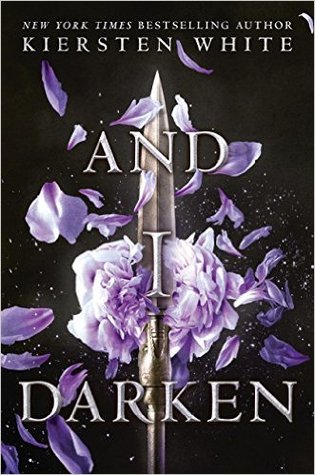 And I Darken by: Kiersten White
My Rating: 1 of 5 Stars
This vividly rendered novel reads like HBO's Game of Thrones . . . if it were set in the Ottoman Empire. Ambitious in scope and intimate in execution, the story's atmospheric setting is rife with political intrigue, with a deftly plotted narrative driven by fiercely passionate characters. Fans of Victoria Aveyard's THE RED QUEEN, Kristin Cashore's GRACELING, and Sabaa Tahir's AN EMBER IN THE ASHES won't want to miss this visceral, immersive, and mesmerizing novel, the first in a trilogy.
NO ONE EXPECTS A PRINCESS TO BE BRUTAL. And Lada Dragwlya likes it that way. Ever since she and her gentle younger brother, Radu, were wrenched from their homeland of Wallachia and abandoned by their father to be raised in the Ottoman courts, Lada has known that being ruthless is the key to survival. She and Radu are doomed to act as pawns in a vicious game, an unseen sword hovering over their every move. For the lineage that makes them special also makes them targets.
Lada despises the Ottomans and bides her time, planning her vengeance for the day when she can return to Wallachia and claim her birthright. Radu longs only for a place where he feels safe. And when they meet Mehmed, the defiant and lonely son of the sultan, who's expected to rule a nation, Radu feels that he's made a true friend—and Lada wonders if she's finally found someone worthy of her passion.
But Mehmed is heir to the very empire that Lada has sworn to fight against—and that Radu now considers home. Together, Lada, Radu, and Mehmed form a toxic triangle that strains the bonds of love and loyalty to the breaking point.
From New York Times bestselling author Kiersten White comes the first book in a dark, sweeping new series in which heads will roll, bodies will be impaled . . . and hearts will be broken.
Beware spoilers ahead!
I received this E-ARC via Random House Children's and Netgalley in exchange for an honest review.
DNF
When I saw this on Netgalley I was surprised that it was there. I had heard about this book last year September. I decided to request it because while it didn't sound like my cup of tea, I wanted to try it. Unfortunately I didn't like it.
The book begins with Lada being born. Her father is waiting impatiently and is not pleased when he sees that his wife has given birth to girl. He names after himself and hopes that at least Lada will be pretty so that he can have her married off.
The year after Lada's brother Radu is born. At this point their mother does not care for either of her children and has the nurse raise them. Much to their fathers disappointment Radu is far too sensitive. And much to everyone's surprise Lada is fierce and intimidating.
Over the next few years the siblings are raised together with their Nurse. Lada keeps surprising everyone meanwhile Radu is forgotten. They don't really have much of relationship. As Lada doesn't really understand emotions. Then one day their father sends them off as a means of creating a treaty. He never comes back for them.
The reason I didn't enjoy this is because I found it extremely boring. Despite being compared to Game of Thrones this book has no magic element. Instead it has politics and religion. While Lada was somewhat refreshing to read about she was pretty stupid. And Radu was a little more sly than his sister was always wallowing about the fact that he was the useless sibling. Other reviewers are right about the fact that the author focuses on the characters weaknesses.
I really did not like Lada and Radu's relationship. The synopsis makes it sound like they would be close. But they weren't. They did  care for each other. But Lada did not seem to understand how to express her love for her brother. Meanwhile Radu didn't want to step on her toes.
This book was also utterly boring. I spent most of the time skimming it. Then eventually that became work so I dropped it altogether. Most of the book was spent with politics and Lada trying to rebel against those who tried to control her.
Overall I did not enjoy this book. I cannot bring myself to recommend it.