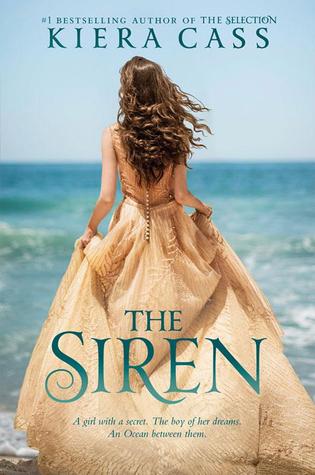 The Siren by: Kiera Cass
My Rating: 2 of 5 Stars
From Kiera Cass, #1 New York Times bestselling author of the Selection series, comes a sweeping stand-alone fantasy romance.
A girl with a secret.
The boy of her dreams.
An Ocean between them.
Years ago, Kahlen was rescued from drowning by the Ocean. To repay her debt, she has served as a Siren ever since, using her voice to lure countless strangers to their deaths. Though a single word from Kahlen can kill, she can't resist spending her days on land, watching ordinary people and longing for the day when she will be able to speak and laugh and live freely among them again.
Kahlen is resigned to finishing her sentence in solitude…until she meets Akinli. Handsome, caring, and kind, Akinli is everything Kahlen ever dreamed of.
Falling in love with a human breaks the Ocean's rules. But for the first time in a lifetime of following the rules, Kahlen is determined to follow her heart.
Beware spoilers ahead!
DNF
When I heard about this book I thought it would be interesting. Having tried to read The Selection and The Heir, I didn't have too many hopes for this book. I saw it was at my library and thought 'Why not?'. For all I knew it could be really good. While I was waiting for it to come from the library, reviews were coming in saying that it wasn't that great. I left the hold assuming that I'd at least enjoy it. Sadly I did not.
The book begins in the 20's Kahlen and her family are aboard a ship. At this point Kahlen can't remember where they were supposed to be going. While Kahlen is waiting with her mother the two hear someone singing. They assume that it is the band and go outside to see.
Kahlen starts to get a bad feeling because her mother doesn't care about her make-up. There's a storm and it could get ruined and under normal circumstances she wouldn't have gone outside. When they reach outside Kahlen is surprised that some people are happily throwing themselves overboard. And her younger brother starts to get in a fight with someone over the water drops. Then Kahlen's parents throw themselves overboard smiling. She seems to be the only one to notice and screams.
At some point Kahlen decides that she wouldn't mind going overboard herself. Once she's in the water she realizes what she's done. She doesn't want to die and she'll do anything to live. Then she winds up on shore with three beautiful girls. She asks them whether or not she's dead. They say that she's not. The girls explain Kahlen that they are Sirens. And they serve the Ocean. They use their voices to feed the Ocean. Kahlen has a panic attack when she realizes that her family are dead. The girls say that Kahlen can either choose to be a Siren for a 100 years or to join her family. Kahlen agrees to become a Siren.
The only reason I DNFed The Siren is because of the Ocean. I found it weird that the Siren's worked for the Ocean. And towards the end of the book all the Siren's have a conversation with the Ocean. It was so weird and cheesy. I had a feeling that it would get even more weird had I read the whole book.
The friendship between the Siren's was amazing! It was so sweet how close they were and that they did anything for one-another. This is shown in the end when the Siren's do whatever they can to help Kahlen. Unfortunately these likes did not save the whole book.
Overall I did not enjoy this. I recommend it if you're a fan of the author, and you're looking for a little Siren book.