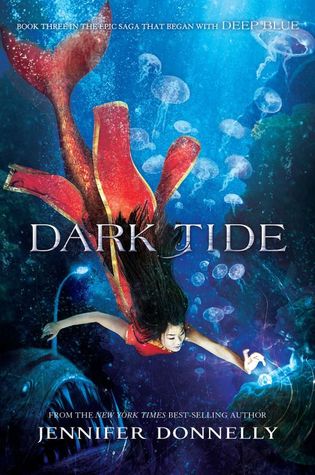 Dark Tide by: Jennifer Donnelly 
My Rating: 4 of 5 Stars
Once a lost and confused princess, Serafina is now a confident leader of the Black Fin Resistance (BFR). While she works on sabotaging her enemy and enlisting allies for battle, her friends face challenges of their own. Ling is in the hold of Rafe Mfeme's giant trawler, on her way to a prison camp. Becca meets up with Astrid and learns why the Ondalinian mermaid is always so angry: she is hiding a shameful secret. Ava can't return home, because death riders await her arrival. And it is getting more and more difficult for Mahdi, Serafina's betrothed, to keep up the ruse that he is in love with Lucia Volerno. If Lucia's parents become suspicious, his life–and all of Sera's hopes–will be extinguished. Political intrigue, dangerous liaisons, and spine-tingling suspense swirl like a maelstrom in this penultimate book in the WaterFire saga
Beware spoilers ahead!
This book series was recommended to me by my dear GR friend Alyssa! Click on her name to read her review.
After finishing Rogue Wave I needed to read Dark Tide! That ending was very cruel. I have no idea how people managed to wait until October 2015 to read this book. I am happy to say that I enjoyed this! 
The book begins with a prologue in Astrid's point of view. Astrid is on her way home. It's been quite the journey and she's nearly there. So far she's managed to dodge the Death Riders. She stays in a hotel to rest for the night. As she gets ready to sleep the man with fully black eyes appears in the mirror. He knows Astrid's secret and reaches out to her. Astrid feels drawn to him and does the same. Right before he can pull her through the mirror she sees that he has no iris. She jumps back and runs.
We are then taken to the first chapter in Sera's point of view. It's been two months since the events of Rogue Wave and she is now in charge of the Black Fins Resistance. With the help of Madhi they plan to steal some gold from her uncle Vallerio.
Neela and Yaz are apart of the Black Fins as well. Yaz is Sera's second in command. Once they have their plan set they make their way to the palace. Mahdi pretending to love Lucia holds a party for her as a distraction while the Black Fins steal the gold. The plan goes a bit wrong and they are discovered. Still managing to make it out with the gold Sera and Sophia run.
While trying to outrun the Death Riders they come across a secret room. The two decide to rest for a bit because Sera's tail is severely injured. As Sera takes in her surroundings she realizes that the room has statues of the Six the girls are descended from. And in the statues are their talisman's. Sera makes a mental take and contacts the girls.
Dark Tide was much better than Rogue Wave! There are multiple point of views in this book. The author did a good job balancing all of them along with the plot. There is a larger focus on politics and new allegiances are made.
Sera now in charge of the Black Fin's has become an inspiring leader. Throughout the book she continues to address issues such as food and shelter, without losing hope. Her relationship with Yaz was really sweet! Madhi doesn't really come in but their still going strong.
Ling finds herself in a terrible situation. After finding out that Orfeo is alive she has been sent to a work camp to look for one of the talisman's. Throughout her journey she fights for her survival. She realizes that not every strong person is going to remain strong forever, and that her mother was never weak. While at the camp she also meets someone   from her past.
Becca run into Astrid while searching for the talisman. The two of them become friends. Becca's past is revealed in this book. It was quite sad. Once the two of them separate Becca searches for her talisman. Along the way she realizes that not everything goes according to plan.
Astrid is hiding a secret. While I didn't find it that bad it really brought Astrid's self esteem down. When she meets Becca she finds herself becoming friends with Becca. This goes against all her raising as she's not supposed to be emotional. Once they separate Astrid returns home to terrible news. She meets someone very important and sets off with said person. Astrid realizes she has nothing to fear about her secret. She decides to do things her way and let people into her life.
Neela is present in the book but she doesn't come in. Ava and Lucia's point of views do come in. Surprisingly Lucia comes in more than Ava and Neela. As usual the female friendship was amazing! Becca and Astrid get love interests. I am looking forward to see where that goes. I also love the sibling relationship in this book! I liked Dark Tide way more than Rogue Wave! 
I didn't have any issues with Dark Tide. But if I had to think of something I would say that I would've liked to read more about Ava. I feel like I don't even know Ava. I'm sure she'll become a bigger character in Sea Spell as she is still looking for her talisman.
Overall this was a great book! I recommend this series to anyone looking for a good mermaid series. I can't wait to read Sea Spell which is the last book!