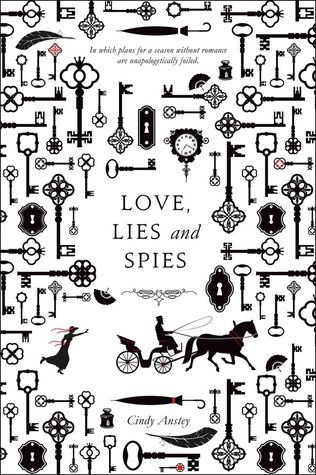 Love, Lies and Spies by: Cindy Anstey
My Rating 4 of 5 Stars
Juliana Telford is not your average nineteenth-century young lady. She's much more interested in researching ladybugs than marriage, fashionable dresses, or dances. So when her father sends her to London for a season, she's determined not to form any attachments. Instead, she plans to secretly publish their research.
Spencer Northam is not the average young gentleman of leisure he appears. He is actually a spy for the War Office, and is more focused on acing his first mission than meeting eligible ladies. Fortunately, Juliana feels the same, and they agree to pretend to fall for each other. Spencer can finally focus, until he is tasked with observing Juliana's traveling companions . . . and Juliana herself.
Beware spoilers ahead!
This book was recommended to me by my dear GR friend Cookie! Click on her name to read her review.
I has heard about this book through Cookie's review. At first I didn't think much of it but then it started popping up on GR. After reading the synopsis I didn't hesitate to pre-order this book. I am happy that I enjoyed it!
The book begins with Juliana in a sticky situation. She is dangling of a branch and if she lets go she'll fall. She is really hoping that help arrives soon. But hopes that it isn't a gentlemen who saved her. Much to her dismay there are only gentlemen. She explains the two of them that if she is saved by gentlemen word will get to her Aunt and she won't be allowed to go to London.
Realizing that she has no other choice Juliana expects their help. They agree to keep this a secret between the three of them. They also decide that if they are to meet in person they would pretend to not know each other. With that Juliana goes back home.
 Spencer was quite amused by the women he and his best friend Bobbington saved. He really does hope that she keeps the interaction a secret. It would likely ruin his mission otherwise.
I really did not expect to like this book this much! Like seriously it blew my mind! The book is written in third person switching between Spencer and Juliana's point of view. Which does make it interesting to see all the heist and espionage stuff. The writing style was good. And there was a lot of mystery to it. Rather than chapter titles there are chapter headings. Which were funny to read about.
All the characters were well done in this book! Especially there relationships with one-another. Juliana was an interesting character. She was smart and respected herself. I loved reading about her relationship with her cousin Carrie! I didn't really like her Aunt. I felt that she was controlling and condescending. Her uncle and father were sweet. Spencer's character is quite vague  But his relationship with Bobbington was nice! As well as his family who come in much later in the book.
Juliana and Spencer were absolutely adorable! There banter was hilarious! On a few occasions I actually laughed out loud which rarely happens! I honestly thought that I didn't like historical romance's before I read this book. The chemistry and the tension between the two of them was well done! And they were so sweet together!
I only had two problems with this book. The heist and espionage stuff was really confusing in the beginning. We are kept in the dark for so long that it was hard to connect the dots. And what I found odd was how Juliana and Spencer would think about their first names. In those days you had to give permission to someone to say your first name. That didn't happen until the end but they still thought each other's first name which was odd.
Overall this was a really good book! I recommend it to anyone looking for light regency and historical romance.