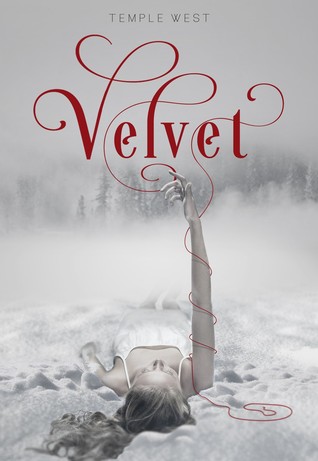 Velvet by: Temple West
My Rating: 4 of 5 Stars
First rule of dealing with hot vampire bodyguards? Don't fall in love.
After losing both her parents before age seventeen, aspiring designer Caitlin Holte feels like her whole world has been turned upside down, and that was before the terrifying encounter with a supernatural force. Then, she learns that her hot bad-boy neighbor, Adrian—who might have just saved her life—is actually a half-demon vampire.
Suddenly Caitlin is stuck with a vampire bodyguard who feels that the best way to protect her is to become her pretend boyfriend. Trouble is, Caitlin is starting to fall in love for real, while Adrian can never love a human. Caitlin trusts Adrian to keep her safe from his demon father, but will he be able to protect her heart?
Beware spoilers ahead!
This book was recommended to me by my dear GR friend Alyssa! Click on her name to read her review.
I had been hearing about this book for awhile. Around early March. Through Twitter and some blog posts. The cover was eye-catching as was the title, so I looked it up on GR. I read the synopsis and thought nothing of it at the time. After some contemplating I realized that I missed reading a good vampire book. When I went on GR to add it I came across Alyssa's review. Her review made up my mind that I wanted to read this book. I am happy to say that I enjoyed it!
The book begins with Caitlin out in the forest drawing. She's successfully managed to escape her aunt Rachel for the time being. Caitlin's mother died from bone cancer three days ago. Caitlin was supposed to live with her grandmother but the court saw her grandmother as an unfit guardian. So now here Caitlin is living with her aunt, uncle, and her cousin.
Caitlin realizes the time and makes her way to her aunt's place. She slips off the rock she was sitting on and slams into something. She realizes that she's slammed into a boy who looks about her age. The boy flips her over. Caitlin hears a really loud storm. Then she sees that it isn't a normal storm it looks like a fiery tornado. The boy apologizes and touches her forehead. He then starts to speak she doesn't understand. She feels as if her head is going to explode. Then the boy takes her back to her aunt's place. Caitlin forgets everything that happened while she was in the forest.
Caitlin refuses to get along with her family. She knows that her mother didn't like her aunt, and they never bothered to visit her mother when she was in the hospital. They called a few times and sent her e-cards. Caitlin is furious with them and rebuffs all of her aunt's attempts to talk to her. But alas she has to go to school.
One of the girls in her class takes a liking to Caitlin and the two become friends. The rest of the students take a hint and leave her alone. Well expect for Trish (the girl mentioned above). School goes well. Caitlin spots the guy that saved her life when she was in the forest. According to Trish his name is Adrian and he tends to keep to himself. Much to Caitlin's surprise Adrian offers to drive to school and back home. Caitlin agree's thinking she could use this to scare aunt Rachel and her uncle.
I actually thought that I would end up rating this four stars. While I did enjoy it, I was kind of disappointed. Nonetheless I still liked it! The writing style was pretty good! The author did a tremendous job fleshing out Caitlin! The book is written in first person in Caitlin's point of view. There are chapter titles which were sometimes funny to read.
I really liked Caitlin's character! Her pain was realistic and I never felt that it was overdone. She spends the majority of the book trying to heal and dealing with vampire stuff. It wasn't until the end of the book that Caitlin was truly happy with everything in her life. Which I found to be realistic. Caitlin also had goals. She wants to go to New York and open up her own clothing store. Knowing a bit of sewing myself I understood everything that was mentioned. It was interest to read about a character who could sew. That doesn't happen in most YA. Her friendship with Trish was sweet! There was some awesome female friendship in this book. The relationship she had with her family was complicated and I understood it. She does start to open up to them and care for them.
The relationship with Adrian was so sweet! I loved reading about their friendship and later on their romance. This was slow burn romance. The best relationship in this book was Adrian and his little brother Lucien. I barely read about brother relationships so it was a nice change. Caitlin was also very close to Lucien.
Adrian's family was the opposite of Caitlin's. His siblings haven't interacted with humans in years and that has affected them. They're very cold and don't care about Lucien. Adrian doesn't feel comfortable being himself around them because they would shun him and wouldn't understand him. The only people he's happy around are Caitlin and Lucien.
The vampire's were original in this book. There was some science towards them and it was unique. I liked how upfront Adrian was about everything. He didn't keep anything a secret from her. The information he didn't tell her he wasn't allowed to tell. They start 'dating' fairly early on in the book. This book does start to get dark around the time Caitlin starts having horrifying nightmares and it is implied that everything regarding Lucien is very dark.
I only had two problems with this. As I mentioned earlier most of the book is spent developing Caitlin's character and relationship with everyone around her. So it was quite slow. But realistic and necessary. I was happy that Caitlin didn't insistently move on with her life. And all of a sudden forgive her family. However this resulted in the book being very slow. I expected there to be more action considering it's a vampire book. I would've liked more information on the vampires and some more action. This is most likely to happen in the second book.
The mini fight that Caitlin and Adrian got into did become annoying. I understood why it happened and I know both of their sides. But I felt that it was a tad bit more dramatic then it needed to be. Nonetheless I enjoyed this book!
Note this is not like Twilight. Yes there are vampires, a few scenes in the forest, and a vampire council, but that it where the similarities stop. Caitlin is a much better character than Bella and Adrian is more appealing than Edward. I have noticed a lot of readers comparing this to Twilight but when I started reading Velvet it didn't sound like Twilight. It's like when most people compare middle magic books to Harry Potter. While there are a few similar elements you can find them in other books as well. I've mentioned this so that you won't be discouraged from reading this based on the fact that you didn't like Twilight. 
Overall this was a good book! I will definitely be reading the sequel Cashmere! I recommend it to anyone looking for a light vampire book series.