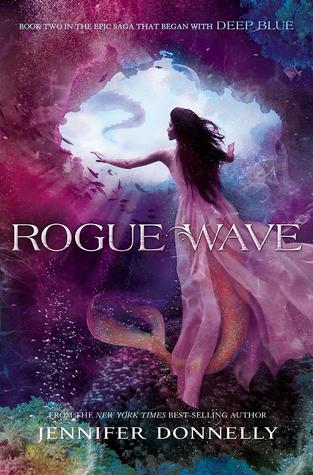 Rogue Wave by: Jennifer Donnelly 
My Rating: 4 of 5 Stars
Serafina, Neela, Ling, Ava, Becca, and Astrid, six mermaids from realms scattered throughout the seas and freshwaters, were summoned by the leader of the river witches to learn an incredible truth: the mermaids are direct descendants of the Six Who Ruled-powerful mages who once governed the lost empire of Atlantis. The ancient evil that destroyed Atlantis is stirring again, and only the mermaids can defeat it. To do so, they need to find magical talismans that belonged to the Six.
Serafina believes her talisman was buried with an old shipwreck. While researching its location, she is almost discovered by a death rider patrol led by someone familiar. . . . The pain of seeing him turned traitor is devastating.
Neela travels to Matali to warn her parents of the grave threat facing their world. But they find her story outlandish; a sign that she needs to be confined to her chamber for rest and recovery. She escapes and travels to Kandina, where her talisman is in the possession of fearsome razormouth dragons.
As they hunt for their talismans, both Serafina and Neela find reserves of courage and cunning they didn't know they possessed. They face down danger and death, only to endure a game-changing betrayal, as shocking as a rogue wave.
Beware spoilers ahead!
This book series was recommended to me from my dear GR friend Alyssa! Click on her name to read her review.
After I finished reading Deep Blue I so badly wanted to read the rest of the series! I was only able to get to it now due to my reading schedule. I am happy to say that I enjoyed this!
The book begins with a prologue. In the point of view of the man with fully black eyes. He watches Serafina from a mirror. He could kill her that way at least he won't have to worry about her getting in his way. As he watches her he realizes that killing her now would be pointless. If he kills her later on there's a good chance that she'll have the talisman's. Once he steals the talisman's from her and destroys everything she holds dear, then he'll look into her eyes proving to her that darkness has won.
We are then taken to the first chapter which is in Serafina's point of view. She and the rest of her friends fled into the mirror so that they could escape Traho's army. While Sera is trying to get a way out of there she runs into Dolim. The man in charge of the mirror realm who eats people's fears.
Dolim confront Sera and asks where she is going. She lies and says she's going home. He eventually figures out that she's lying and start feeding of off her fears. Sera feels absolutely helpless as Dolim continues to feed. When Dolim starts talking again Sera regains her strength. Sera tells Dolim everything she is afraid of until Dolim becomes so fat that he can't move.
It is then revealed that Sera plans to go to the capital of Atlantis. Sera is hoping to find a clue and then she'll make her way home. When she reaches the capital Sera runs into Ling. Ling explains that Ava was worried so she offered to go after Sera. After doing some investigating they decide to ask Lady Thalia some questions. Lady Thalia is one of the mirror people and from her the two find out a bit about Orfeo's past, what some of the talismans are, and a particular person who was working with Orfeo.
Before finding out anymore the creatures guarding the capital come and start to attack the girls. Then Dolim appears with the man with fully black eyes. Sera has no choice but to destroy the mirror. The two of them fight off the monsters and manage to escape. Ling and Sera feel somewhat accomplished with the information they got from Lady Thalia. They wish each other luck and go their separate ways.
I didn't like this book as much as Deep Blue but I enjoyed it nonetheless! You get two point of views in this book. Sera and Neela. Serafina thinks that she can find the location of the talismans through Merror's progress. She doesn't find what she's looking for but with the help of some new friends she is able to pin point the locations. Sera focuses on finding Merrow's talisman whom she is descended from. Along the way she finds out about the Black Fins rebellion. She also runs into Madhi her fiance. Throughout her journey Sera learns to accept her role as a future queen and becomes an amazing leader.
When Neela arrives home her parents think that she is an impostor judging by what she's wearing. After they realize that she isn't an impostor they welcome her with open arms. But after some time they believe there's something wrong with Neela. She isn't eating her favourite sweets and she still insists on keeping the outfit she came home in. Neela tries to explain her parents the situation with the talisman's. Much to her surprise her parents think that she's crazy. They actually call in a doctor and keep her locked in her room. Sera is able to contact her and tells her about the talisman Neela has to look for. Neela runs away from home and goes to search for the talisman. Neela gets some help from a friend to retrieve the talisman. Throughout her journey Neela learns to do what she wants and her way.
Ava does come in for one scene. Ling comes in with Serafina and at the end of the book. You are not sure what is happening with Astrid and Becca. Despite this you could feel the friendship between all the girls. 
Just like Deep Blue there is some action and lots of twists and turns. Old and new characters come in this book. I didn't expect some of the old characters to be working with Traho let alone that they became main characters. I loved Sera and Neela's character development! It was also nice to read about the Black Fins and Madhia and Yaz (Neela's brother). I did not see some of those twists coming. Just like Deep Blue there is barely any romance but when it was present it was adorable!
I only had three problems with Rogue Wave. I felt that Deep Blue was much better than Rogue Wave. The book felt really jumpy and once Ling and Sera separate not much happens for awhile. I also felt that it lost some of it's magic because the girls were separated and didn't meet until towards the end. Nonetheless I enjoyed this!
Overall this was a really good book! I recommend this series to anyone looking for a good mermaid series.