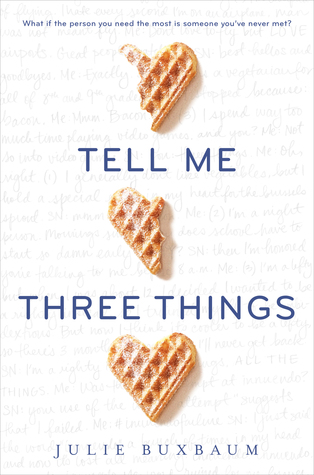 Tell Me Three Things by: Julie Buxbaum
My Rating: 2 of 5 Stars
Everything about Jessie is wrong. At least, that's what it feels like during her first week of junior year at her new ultra-intimidating prep school in Los Angeles. Just when she's thinking about hightailing it back to Chicago, she gets an email from a person calling themselves Somebody/Nobody (SN for short), offering to help her navigate the wilds of Wood Valley High School. Is it an elaborate hoax? Or can she rely on SN for some much-needed help?
It's been barely two years since her mother's death, and because her father eloped with a woman he met online, Jessie has been forced to move across the country to live with her stepmonster and her pretentious teenage son.
In a leap of faith—or an act of complete desperation—Jessie begins to rely on SN, and SN quickly becomes her lifeline and closest ally. Jessie can't help wanting to meet SN in person. But are some mysteries better left unsolved?
Julie Buxbaum mixes comedy and tragedy, love and loss, pain and elation, in her debut YA novel filled with characters who will come to feel like friends.
Beware spoilers ahead!
DNF
This book was recommended to me by my dear GR friend Alyssa! Click on her name to read her review. 
When I had first read Alyssa's review I was sold. At the time I was in a contemporary funk and added it to my shelf. Then one day I started thinking about this book. I realized that I couldn't bring myself to buy it because I thought the SN thing was stupid. What was the point of the mystery? If it had been me going to a new school I would've rather had someone physically show me the ropes rather than keep his/her identity a secret and just email me. A few weeks back I saw that it was in the library and thought 'Why Not'. Maybe there really was a reason for the mystery behind SN. Unfortunately I did not enjoy this. 
The book begins with Jessie coming across an email from a mysterious SN. In the email SN mentions that SN took an interest in her because Jessie is different from everyone else at her new school. SN offers to be Jessie's guide. Jessie thinks that this a is a trap. SN replies that it is not a trap and that SN indeed wants to help her. Jessie turns SN down claiming she can handle it herself. 
Thus far Jessie hasn't been able to make any friends. She's having a hard time adjusting and her situation certainly doesn't help. Jessie's mother passed away about a year back. Since then she only had her father. Her father arrived at home one day explaining to he eloped with a woman he met online. Jessie had to leave her home behind and her friends. What bother's her is that she didn't even get a say in the matter.
Once they moved Jessie makes it a point to be polite and civil, all while avoiding conversation with her step-mother Rachel and her step-brother Theo. Rachel is nice enough but Theo is pretty rude. He doesn't make any small talk with Jessie and whenever he sees her at school he pretends like he doesn't know her.
School is proving to be rather difficult. She has successfully managed to humiliate herself on several occasions and so far no one talks to her. Two girls in her grade make it a point to make fun of her every time she's around them. Eventually she decides to take SN's offer because she is a lost cause.
Tell Me Three Things started off pretty good. I liked the humour and the writing style. I was engaged. Then it all went downhill as I continued to read. I started to notice that this book is overly dramatic. Yes it sucked that her mother died. And I understood why she was angry at her father. But I couldn't connect with any of her pain because of all the needless drama. It seemed like everyone hated Jessie and all she did was humiliate herself repeatedly. SN literally writes in an email that their high school is a war zone.
From my personal experience most high schools aren't like that. Yes there are bullies who every time you walk by them will start 'whispering' about you. And it isn't easy making friends especially if you're the new kid. But it was really overdone in this book. I kept on thinking 'Wow that's a lot of drama' and 'This book is awfully dramatic'. There were times were it felt like the author was intentionally making Jessie miserable so that she could contact SN.
I've rated this two stars because I did enjoy the beginning of the book. Aside from that I can't think of anything that appealed to me.
Overall I did not enjoy this book. I cannot bring myself to recommend it.