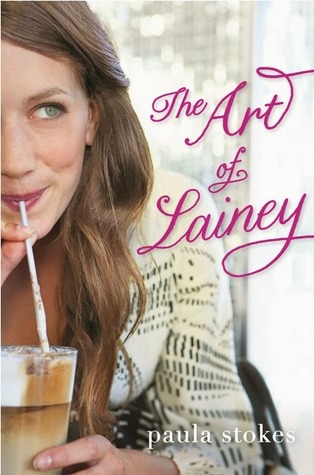 The Art of Lainey by: Paula Stokes
My Rating: 4 of 5 Stars
Soccer star Lainey Mitchell is gearing up to spend an epic summer with her amazing boyfriend, Jason, when he suddenly breaks up with her—no reasons, no warning, and in public no less! Lainey is more than crushed, but with help from her friend Bianca, she resolves to do whatever it takes to get Jason back.
And that's when the girls stumble across a copy of The Art of War. With just one glance, they're sure they can use the book to lure Jason back into Lainey's arms. So Lainey channels her inner warlord, recruiting spies to gather intel and persuading her coworker Micah to pose as her new boyfriend to make Jason jealous. After a few "dates", it looks like her plan is going to work! But now her relationship with Micah is starting to feel like more than just a game.
What's a girl to do when what she wants is totally different from what she needs? How do you figure out the person you're meant to be with if you're still figuring out the person you're meant to be?
Beware spoilers ahead!
I had heard about this book through GR. It sounded really sweet! After a few weeks of contemplating I decided to add it to my shelf. I am happy to say that I enjoyed it!
The book begins with Lainey working at her family's coffee shop. As she's getting a girl's order ready she notices her boyfriend Jason coming. Once the girl's order is ready Lainey goes over to Jason. Something is screaming in her brain that Jason is off. But she ignores these voices and continues to talk to him. When it becomes clear that there is really something wrong with him she asks him what's bothering him. He says that he needs a break and basically breaks up with her in her family's store.
Lainey is in absolute shock and heartbroken. She goes to take a break so that she can have a minute to herself. One of her coworkers Micah comes in the office to get a recipe. He attempts to comfort her. Lainey being in a bad mood brushes it off. Eventually she has to get back to work.
Lainey and her best friend Bianca 'Bee' go to Lainey's house after work. Lainey contemplates for awhile as to why Jason broke up with her. Freaking out Lainey texts Jason asking if he broke up with her because of his father coming back. Bianca tells Lainey that she can't text Jason. The two of them pull up some websites and find that the best thing to do is ignore him for a week. Lainey doesn't think that she can do it but tries anyways.
Bianca also suggests using The Art of War for some strategies to help win Jason back. Lainey is completely against the idea. But keeps the book anyways. Surprisingly Lainey does continue to read The Art of War thinking it might actually help her.  
A week has passed since Jason broke up with Lainey. Thanks to Bianca Lainey was able to avoid stalking him and texting him. The two of them plan for Lainey to 'run' into Jason with the purpose of returning his DVD's. Lainey gets all dressed up and brings some food with her. When she reaches her destination she sees Jason with another girl. At first she thinks that the girl is carpooling, but then she sees them kiss.
Lainey shares the news with Bianca and the two of strategize using The Art of War. Bianca realizes that in order for this plan to work Lainey will need to date someone to send the point home. Lainey mentions yet again that she doesn't want to date anyone as that would be leading said guy on. Bianca then suggests that Lainey needs to find a fake boyfriend. Just then Micah and another coworker pass by. Lainey then remembers that Micah mentioned breaking up with his girlfriend. Lainey asks Micah to be her fake boyfriend and tells him this will benefit him as well. After a week Micah agrees and they make a plan. 
I am so happy that I enjoyed this! I was scared that I wouldn't like it considering how rude and judgmental Lainey was in the beginning. The book is written in first person in Lainey's point of view. I liked the writing style. It was also really cool how every chapter there was a quote from The Art of War. 
I loved the friendship between Lainey and Bianca! It's nice to read about awesome female friendship. I also loved the tibits of the family. Micah was very close with his sister Trinity and his mother. Lainey's mom read tea leaves! This is literally the only book in which the parent can read tea leaves. Her mother would give predication's every now and then. Lainey also emails her brother and gets advice from him. Her father doesn't come in that much but whenever he does he's always nice.
I found it interesting how the author tied The Art of War aspects into the 'Get our exes back' plan. While it was probably obvious what they would need to get and how they would do it, I still looked forward to the progresses in their plan. It was also nice that Lainey and Micah had a lot of help.
 I really enjoyed reading about Lainey's character development! She really grew throughout the book. In the beginning Lainey was popular and judgmental. She judged her coworkers based on the fact that they had tattoos and how one of them was bald. She was your typical popular girl who only thought about herself. Lainey wasn't always like that though.
When she was younger she was friends with Micah. But then she met Kendall and her brother Jason. Kendall made her popular and Lainey never wanted to feel invisible again. While Kendall is away filming a show and Jason has broken up with her, Lainey now has some time to think about who she wants to be. She realizes that she doesn't like who she was earlier and now wants to change. Micah contributed to some of that change.
 Micah stopped being friends with Lainey after his father was killed in a convenience store. Micah blames himself for what happened because he asked for a drink. Then of course Lainey became popular and he had his own life to deal with. 
I enjoyed reading the relationship between Micah and Lainey. I liked how Micah teased her and in the end understood her better than Jason did. Despite Micah continuing to tease Lainey he did care for her. It was a slow burn romance. And definitely one of my favourites.
I loved how every character was realistic! Even characters like Kendall who was the mean girl of the book. While yes at times Lainey was annoying she was realistic as you do meet girls like her in life. I also liked the ending. I felt that it was a good conclusion to everything. 
I didn't have any problems. I simply didn't love it which is why I rated it 4 stars.
Overall this was a fun book! I recommend it to contemporary fans and fans of the fake relationship trope.