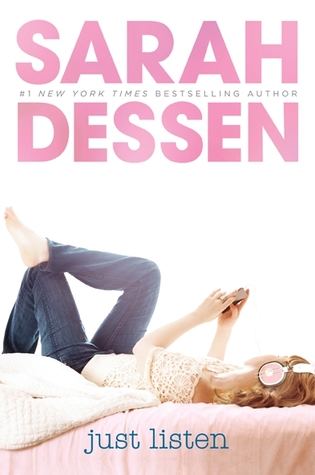 My Rating: 4 of 5 Stars
Last year, Annabel was "the girl who has everything" — at least that's the part she played in the television commercial for Kopf's Department Store.
This year, she's the girl who has nothing: no best friend because mean-but-exciting Sophie dropped her, no peace at home since her older sister became anorexic, and no one to sit with at lunch. Until she meets Owen Armstrong.
Tall, dark, and music-obsessed, Owen is a reformed bad boy with a commitment to truth-telling. With Owen's help, maybe Annabel can face what happened the night she and Sophie stopped being friends.
Beware spoilers ahead!
Last year I read my very first Sarah Dessen book Saint Anything. I loved it and continued to look for more book by Sarah Dessen! Out of all her books the synopsis of Just Listen appealed to me the most. Which is why I decided to read this before the rest of my Sarah Dessen books. I am happy to say that I enjoyed it!
The book begins with Annabel watching a commercial she was in. She turns off the tv and mentally prepares herself for school. Annabel has been dreading going to school for months now. After the argument with Sophie and avoiding everyone in school she's not sure what she'll find when she reaches school.
When Annabel reaches school she sits in her car for a few minutes just to think everything through. As she gets out of her car she and Sophie came face-to-face. Sophie swears at her and leaves. It becomes evident that there is no way to salvage their friendship and for the rest of the year Sophie will consistently pick on her.
The first day goes by in a blur. As Annabel tries to make conversation with other people they don't talk to her. Last May she wanted nothing to do with other people now she's getting just what she wanted. During lunch she sits alone. Apparently Emily is choosing to sit with Sophie even though Annabel was friends with her first. Annabel's former best friend Clarke clearly wants nothing to do with her. And then there's Owen. Who seems intimidating and closed off. While she's eating lunch she sees Will Cash pass by. She freezes up and once he leaves she vomits in the bush.
The next weeks continue normally. Sophie will call Annabel names when she least's expects it. Annabel eats lunch alone and keeps to herself. While Annabel is leaving school Will Cash catches her eye and talks to her. Annabel manages to get away quickly. Sophie confronts Annabel and threaten's her for talking to Will who is apparently Sophie's boyfriend. Annabel snaps and pushes Sophie. Annabel runs away and vomits in the bush again. Owen is yet again there to witness and helps Annabel. After that day the two of them become friends.
Wow this was such a good book! In the beginning I thought that it would be a 3 star but as I read on I found myself really enjoying it! This book is written in first person in Annabel's point of view. There are quite a few flashbacks but it ever became overwhelming.
I loved the family aspect in this book! Annabel's older sister Whitney was diagnosed with Anorexia. For the past few months it's been difficult for Whitney and her family. In the beginning Whitney didn't acknowledge that there was something wrong. That what she was doing wasn't healthy. She didn't see it that way.
Their oldest sister Kiersten noticed (they lived together) but Whitney claimed that Kiersten must have been jealous of her as Whitney got more modeling opportunities than Kiersten. Once the family caught on they continued to support and be there for Whitney. The eating disorder was very well done! Whitney didn't get better in one day she took time but she got there. I liked the entire family in general. My favourite was definitely Kiersten. 
Annabel and Sophie's relationship was complicated. In a sense it was an abusive relationship. Unhealthy. Sophie spent most of her time bullying Annabel into what she wanted. Annabel gave in because she was scared off crossing her. Plus Sophie was the reason she was popular and gained most of her experiences from. Once they stop being friends Annabel realizes that she shouldn't have stuck around Sophie. She already lost Clarke and now she wants to make it up by being friends with Owen.
While I haven't been in the same situation as Annabel I could relate and empathize with her. I understood why she was scared of Sophie and why she kept that night a secret. It didn't bother me at all. It made perfect sense and was handled well. Annabel lies quite a bit. Not because she enjoys lying but because she's afraid that if she tells the truth she'll hurt the people she cares about. It's her way of maintaining peace in her life.
This all changes when Annabel meets Owen. Owen went to juvie for getting in a fight with a guy in the parking lot. Since then he has had to take Anger Management and vows to be honest in every aspect. Owen is extremely passionate about music and tries to educate Annabel in it. Owen also gets Annabel to be honest with everything she has to say. Surprisingly Annabel does so because it's easy being honest with Owen. I found Owen to be a refreshing character! I really liked reading about him! The romance is slow burn and it was done well! 
It was nice reading about Annabel's character development! Being around Owen has made her more confident and honest. She's actually happy with her life when she wasn't earlier. Annabel also learns so much from Whitney and admire's her strength for overcoming everything.
I didn't have any problems with Just Listen. I simply didn't love it hence the rating. Note there is abuse in this book. If you are a sensitive reader you might not enjoy this book. I would suggest reading another contemporary.
Overall this was a really good book! I recommend it to fans of the author and contemporary fans.