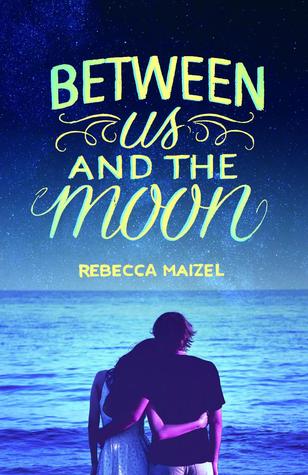 Between Us and the Moon by: Rebecca Maizel
My Rating: 2 of 5 Stars
A luminous young adult novel that evokes Judy Blume's Forever for a new generation.
Ever since Sarah was born, she's lived in the shadow of her beautiful older sister, Scarlett. But this summer on Cape Cod, she's determined to finally grow up. Then she meets gorgeous college boy Andrew. He sees her as the girl she wants to be. A girl who's older than she is. A girl like Scarlett.
Before she knows what's happened, one little lie has transformed into something real. And by the end of August, she might have to choose between falling in love, and finding herself.
Fans of Jenny Han and Stephanie Perkins are destined to fall for this story about how life and love are impossible to predict.
Beware spoilers ahead!
DNF
I had heard about this book last year through GR. It looked interesting. At the time it wasn't in my library so I made a mental note of it. Luckily it had come to my library and I was excited to read it! Unfortunately I did not enjoy it.
The book begins with Sarah talking to her sister Scarlett about the stars. Scarlett calls Sarah a dork and leaves. Their mother calls and announces that Sarah's boyfriend Tucker is here. Sarah goes to greet Tucker. She notices something off about him but pushes it aside. Tucker takes Sarah outside and breaks up with her. During their conversation Tucker mentions that he has changed but because Sarah has her head in science she never noticed. He also implies that he has been cheating on her. He leaves.
Sarah goes back in her house in a daze. She can't believe what just happened. She always thought that Tucker and her would be forever. They've been friends since kindergarten and share a love for science. Sarah is very happy that her family will be spending the summer in Cape Cod.
Once in Cape Cod Sarah still feels hurt by Tucker. One day her sister Scarlett goes to the beach. Sarah wants to go as well but Scarlett says that she wants to spend some time with her friends. Sarah goes anyways and ends up following Scarlett. Sarah realizes that if she becomes Scarlett she'll never be hurt again. Thus creating The Scarlett Experiment.
The reason I didn't finish this book is because of all the lies that Sarah ends up telling. Literally before the epilogue she reveals everything. Which didn't sit well with me. My family considers me the epitome of honesty so that might be part of the reason I couldn't finish this.
I have rated this 2 stars because despite all hte lies Sarah does develop. And the premise sounded interesting.
Overall this was not for me. I still recommend it to fans of contemporary. If you can get past the lying then I think you'd enjoy this.