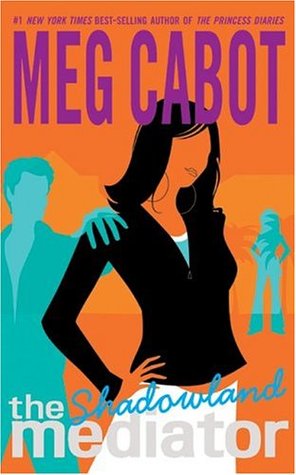 Shadowland by: Meg Cabot
My Rating: 4 of 5 Stars
There's a hot guy in Susannah Simon's bedroom. Too bad he's a ghost.
Suze is a mediator – a liaison between the living and the dead. In other words, she sees dead people. And they won't leave her alone until she helps them resolve their unfinished business with the living. But Jesse, the hot ghost haunting her bedroom, doesn't seem to need her help. Which is a relief, because Suze has just moved to sunny California and plans to start fresh, with trips to the mall instead of the cemetery, and surfing instead of spectral visitations.
But the very first day at her new school, Suze realizes it's not that easy. There's a ghost with revenge on her mind… and Suze happens to be in the way.
Beware spoilers ahead!
When I was younger I was a fan of Meg Cabot. As far as I was concerned she could do no wrong and that all her books were fantastic! Last year I discovered that it's not true. I found out that I didn't like her contemporary books. But I still immensely enjoyed her paranormal/supernatural books. This year I remembered this series and was happy to find that my library has it! I am happy to say that I enjoyed this!
The book begins with Suze mentioning the differences between New York and California. Her mother has gotten remarried and they had to shift to California because Andy her step dad owns a business there. Suze actually likes Andy and she doesn't mind Dopey, Sleepy, and Doc (her nicknames for her step brothers) but she doesn't like the fact that they had to move. Suze doesn't share these thoughts with her mother. Andy makes her mother very happy and Suze is okay with that.
Her new family take her home. On the way there she notices again how different Cali is from New York. While they are talking it comes out that the school she'll be attending is a very old building. As is there house. After hearing this Suze starts to freak out because she doesn't like old buildings.
When they get to the house Suze tries to remain calm. Andy has put a lot of work into the house and has tried to make it comfortable for her. Once they reach Suze's room she sees a guy sitting at her window seat. Only the rest of her family don't see him. Suze can see ghosts and usually there are more ghosts in old buildings.
I seriously did not expect to enjoy Shadowland this much! It was so much fun! This book is written in first person told in Suze's point of view. It takes place over the course of a few days.
I loved Suze. She is definitely my favourite Meg Cabot character! She was smart and a bit of a hot-head. She was tough and could handle a fight just fine.It was interesting to read about her experience with ghosts. And how the mediator stuff works. Throughout this book Suze trying to help people ends up being a bit reckless. She never accepts anyone's help she goes solo. Throughout the book she decides to work with other and that it isn't so bad.
The relationships were awesome! I loved how close Suze was with her mother and that she didn't mind her step father. It's nice to read about a good step parent. While Suze isn't close to any of her brothers in the beginning of the book she does develop a good relationship with Doc. It was so sweet reading about! It wasn't always rainbows and sunshine but they were there for each other.
The little I read about Cece and Adam was nice. I liked Father Dom and Jesse. Father Dom is the principle (and a priest) of the school that Suze attends. Much to her surprise he is also a mediator and does offer to train her. He was a nice mentor. Jesse was a bit clueless but sweet. This does take place in a few days so there isn't really any romance. Suze does consider Jesse good looking but at the moment they're just friends.
The plot was pretty good. Heather was realistic. There are definitely girls like her. It was also nice to for a change that Suze didn't like her powers. But that didn't mean that she was rude to people she still did all her ghostly duty without a lot of complaints. I admire her for that.
I only had two problems with Shadowland. There were times when Suze would talk about how good looking Jesse that it would become annoying. And while I understood why she did so there were times when I felt it wasn't necessary. Also I find it very weird that in a matter of a day Suze is very popular. Yes she did save one of the students and threaten to break another students fingers, I don't think it's possible to get popular that fast. Nonetheless I enjoyed this!
Overall this was a really good book! I recommend this series to anyone looking for a completed fantasy that it more focused on the character development.