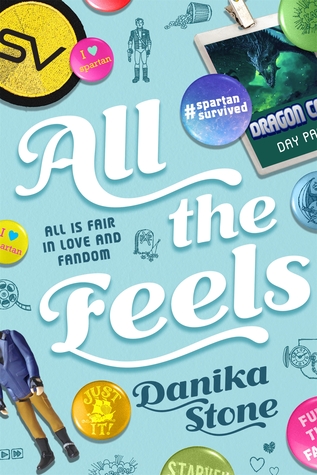 All the Feels by: Danika Stone
My Rating: 4 of 5 Stars
College freshman Liv is more than just a fangirl: The Starveil movies are her life…and her last tangible connection to her deceased father. Thus, when her favorite character, Captain Matt Spartan, is killed off at the end of the last movie, Liv Just. Can't. Deal.
Tired of sitting in her room sobbing, Liv decides to launch an online campaign to bring her beloved hero back to life. With the help of her best friend, Xander, actor and steampunk cosplayer extraordinare, she creates #SpartanSurvived, a call that ignites the fandom. But as her online life succeeds beyond her wildest dreams, Liv is forced to balance that with the pressures of school, her (mostly nonexistent and entirely traumatic) romantic life, and her disapproving mother's new boyfriend. A trip to DragonCon with Xander might be exactly what she needs to get away from it all… and figure out what (and who!) she really wants.
Beware spoilers ahead!
I received this E-ARC via Macmillan Children's Publishing Group and Netgalley in exchange for an honest review. I am also participating in the Sunday Street Team for this book. 
I had heard about this book through GR. At the time I didn't really pay attention to it. Then when I joined the Sunday Street Team for the author's other book Edge of Wild I noticed that the author was having another book coming out this year. Honestly the first time I read the synopsis I thought I would hate this book because at the time it sounded really dumb. But I decided to give it a shot. There are a lot of books that I now love and at one point I thought I would hate. I am happy to say that I enjoyed this book!
The book begins with explaining us a movie. The only thing you know is that it's an alien movie. The main character whose name is Spartan is trying to kill the aliens. With him is a little girl who is attempting to help him. When the two reach an escape pod Spartan tells the girl to run while the countdown is going off. The girl is able to reach the pod and escape. Meanwhile Spartan dies in the explosion.
We are then taken to Liv and Xander. The two are both in shock. Although Liv is in much worse shape. Xander gently tells her that they need to leave the theater and guides her out. He goes to get the car meanwhile Liv waits inside. She has an emotional outburst and takes it out on the workers. Eventually she leaves still very upset. The minute she reaches her house she goes to Twitter and tells some of her friends that Spartan died. Spartan could have made it out  as there was one more pod left.
The following week Liv remains depressed. Xander has tried his utmost to help her and get her out of the house. Her mother has tried to same although she doesn't do it very nicely. Then one day when her mother's boyfriend comes over and Liv's mother wakes her up. Liv changes and goes downstairs to find her mother and her boyfriend going out somewhere. Liv's mom asks her to tag along but Liv declines noticing that Gary (the boyfriend) doesn't want her to come. They leave and she opens the fortune cookie's they left her. Taking the fortune as a sign Liv comes up with #SpartanSurvived and enlists Xanders help.
Wow I seriously did not expect to enjoy it that much! The book is written in third person which I found surprising considering it's a contemporary book. But luckily I liked the writing style! I found that it suited the story. It is divided into two parts. Before Dragon Con and during Dragon Con. There are text messages, twitter conversations, and some fanmade pictures! This was really cool! I've never read a book that's formatted this way. The chapter titles are quotes from things like Harry Potter and Doctor Who. I think that added a nice touch the to overall story.
I completely understood where Liv was coming from! While I haven't been an active member in fandoms I have loved so many tv shows and books, and mourned the characters that died. While I never let it take over my life I can see why some people would.
Liv's only connection to her father was through the Starveil films and when Spartan died her whole world feel apart. It wasn't much help from her mother who viewed fandoms to be dumb and also internet friends. She isn't close to her mother because of this. Xander and his girlfriend Arden helped whenever they could. 
Xander and Liv's friendship was adorable! He was so sweet to her and understanding. He agrees to help her with #SpartanSurvived and eventually gets sucked into the fandom. This in particular was amusing to read about. I was really glad that for a majority of the book they remained friends. The romance was really slow burn but I liked it.
I thought it was brilliant when Liv came up with #SpartanSurvived and it was awesome watching it grow and become such a big deal to the fans that Liv talked to! I would never have come up something like that. And I absolutely loved reading about Dragon Con! It was amazing and I so need to go there one day!
The author did an excellent job writing about being in a fandom! It was so much fun reading and it reminded me about how I converse with my friends on GR! While Liv loved Starveil Xander loved steampunk and cosplays. The author did a good job fleshing out the two different fandoms.
The characters in this book was realistic! Liv eventually finds the confidence to get out there and explore the real world and try to make friends with people in her classes. Xander was her support system as was the other fans of Starveil. She grew into a strong and likable character! Xander was a doll! I loved how he said things like 'dearest'. He's so different than the other male love interests. It was refreshing reading about him.
I only had three problems with this book. I would have liked to see her of Liv and her mothers relationship. When she goes to Dragon Con you're not shown her mothers reaction and I really wanted to read about that. And when she reached Dragon Con Liv only called her mother once. I'm surprised that her mother never called her. And like most contemporaries Xander and Liv get into a bit of a fight which I didn't understand. Thankfully it was resolved quickly. While the epilogue was sweet I felt that it was rushed and somewhat unnecessary. Nonetheless I still liked this book!
Overall I enjoyed this book! I recommend it to all fangirls and fanboys. And anyone trying to understand fandoms.