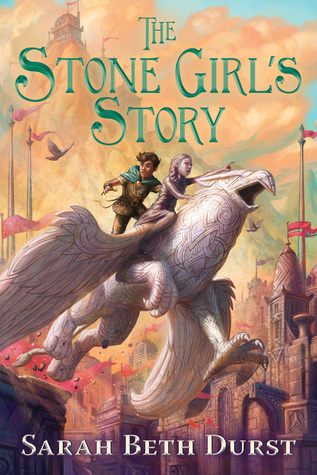 The Stone Girl's Story by: Sarah Beth Durst
My Rating: 3 Stars
Exploring the power of stories and storytelling, Sarah Beth Durst presents the mesmerizing adventure of a girl made of living stone who braves unforeseen dangers and magical consequences on a crucial quest to save her family.
Mayka and her stone family were brought to life by the stories etched into their bodies. Now time is eroding these vital marks, and Mayka must find a stonemason to recarve them. But the search is more complex than she had imagined, and Mayka uncovers a scheme endangering all stone creatures. Only someone who casts stories into stone can help—but whom can Mayka trust? Where is the stonemason who will save them?
Action and insight combine in this magical coming-of-age novel as the young heroine realizes the savior she's been searching for is herself.
Beware spoilers ahead!
Trigger warning: Abuse towards stone creatures, mention of war, and an abusive society.
I have read The Queen of Blood by this author and thoroughly enjoyed it! When I heard that Sarah Beth Durst was releasing a middle grade I didn't hesitate to add this. I am happy to say that I enjoyed it!
The Stone Girl's Story begins with Mayka saying good-bye to Turtle. Turtle is a stone creature whose marks have completely faded. Mayka and the rest of her family is upset but seeing no other option choose to move on. Risa and Jacklo see Mayka by Turtle.
Upon Jacklo's request Mayka gathers the other stone creatures around and tells them a story. Feeling courageous Mayka announces that she will go out into the city and find them a stonemason. Essentially saving all the stone creatures. Some stone creatures protest, but in the end Mayka, Risa and Jacklo go. 
The Stone Girl's Story was such a cute book! Narrated in third person all in Mayka's point of view. There are also chapter numbers. There is a large emphasis in finding yourself, free will, and friendship throughout the story. The stone creatures were such a delight to read about! Created using different types of stone with such vibrant personalities.
The world building was incredible! Durst clearly did her research regarding the different types of stone and aerodynamics. Even the history regarding Mayka's Father and the Stone War. The marks and the stonemasons job was explained in vivid detail without info-dumping.
The characters were extremely well written! Mayka was so sweet and a surprisingly mature main character for a middle grade book. Jacklo and Risa were such great siblings! They got along so well despite being total opposites. Risa being the older and more wise sibling. With Jacklo being bighearted and dedicated to his friends and family. Sisi is a dragon stone creature that the three meet on their journey. Sisi was fun-loving but also insecure. I felt that her insecurities is something we can all relate to. Kisonan was loyal and just. Garit and Ilery are two humans. Ilery was very brave and Garit was a bit awkward but stood by his friends.
Each of the characters begin to develop through their relationships with one-another. I personally felt that Garit, Sisi, and Mayka went through the most character development. Mayka had to navigate her world after finding out some information about her Father she didn't previously know. Garit had to learn and understand that stone creatures deserved choice and had emotions. Sisi needed to overcome her insecurities and learn that she mattered. 
The Stone Girl's Story had quite a bit of traveling in the beginning. As Mayka, Sisi (whom they meet on the way) Jacklo, and Risa traveled to Skye. I'd say that 20 percent of the story was spent traveling. Once they reached Skye the story picked up and it got more interesting.
The villain of the book was Master Siorn whom Garit was apprenticed too. During a stonemason's festival Master Siorn planned on revealing an 'Obedience' mark. He was successfully able to create one and used it on all his stone creatures. I personally found this to be abusive hence the trigger warning. Skye's society was also abusive towards stonemasons and stone creatures. There was a curfew for the stone creatures and the stonemasons were only allowed to live in a specific area.
The highlight off The Stone Girl's Story (aside from the characters and world-building) was Mayka's observations on basic human behaviour. Like how odd she found shoes and how she realized that while Master Siorn was a villain he believed his reasons were good. It was fun to read about how she grew based on her interactions with humans. Seriously though what she said about sweat was on point.
Unlike most books The Stone Girl's Story actually has an epilogue. The ending took place a few years after Mayka's adventure in Skye. All the characters come in. And you got to see how all the characters grew (not just literally). It wrapped up the story and I liked it.
I didn't have any problems while reading. The Stone Girl's Story just felt like a 3 star.
Overall I thought this book was really cute and well done! I recommend everyone to read this as there is something for everyone.