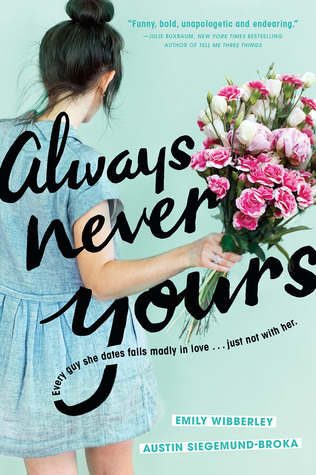 Always Never Yours by: Emily Wibberley and Austin-Siegemund-Broka
My Rating: 4 Stars
Megan Harper is the girl before. All her exes find their one true love right after dating her. It's not a curse or anything, it's just the way things are, and Megan refuses to waste time feeling sorry for herself. Instead, she focuses on pursuing her next fling, directing theatre, and fulfilling her dream school's acting requirement in the smallest role possible.
But her plans quickly crumble when she's cast as none other than Juliet–yes, that Juliet–in her high school's production. It's a nightmare. No–a disaster. Megan's not an actress and she's certainly not a Juliet. Then she meets Owen Okita, an aspiring playwright who agrees to help Megan catch the eye of a sexy stagehand in exchange for help writing his new script.
Between rehearsals and contending with her divided family, Megan begins to notice Owen–thoughtful, unconventional, and utterly unlike her exes, and wonders: shouldn't a girl get to play the lead in her own love story?
Beware spoilers ahead!
Trigger warning: Cheating, slut-shaming, mention of parental abandonment, mention of divorce, and aftereffects of divorce. 
Always Never Yours was really hard to miss. Back in December 2017 it was everywhere. I was pulled in because of the synopsis and cover. I am happy to say that I enjoyed it!
Megan is always the girl before. Over her high school years she's come to terms with that. After all her best friend Madeleine is dating her ex-boyfriend of six months Tyler. Regardless of the situation the two best friends are as close as ever.
Megan's dream is to go to SOTI her favourite university. Thus far Megan has met the directing requirements. The only thing she needs is an acting credit. Jody (the drama teacher) is holding auditions for Romeo and Juliet. Megan has never acted before therefore she safely assumes that she'll have a small role. Much to Megan's surprise she is going to be Juliet. 
I'm so happy that I liked this book! I was a bit hesitant at first but all in all it worked out. The book is written in first person following Megan's point of view. There are chapter numbers, text messages, and at the beginning off every chapter there are quotes from Romeo and Juliet.
If I could describe this book in one word it would be 'Natural'. Always Never Yours felt so real! Everything just made sense in the way the story progressed. All the conflicts felt realistic and also in the way said conflicts were handled. 
I thoroughly enjoyed the large emphasis on plays'! It wasn't just Shakespeare, Megan and her drama friends mention various plays. It was fun to read about Megan's directing experience and her skills.
I really liked Megan! She wasn't afraid to go after what she wanted. Even if it meant her love life. I was surprised and pleased by how mature Megan was! She thought through conflicts realistically and didn't look to blame everyone but herself. Her friendship with Madeleine was amazing! They supported each other through and through. It was nice that Madeleine didn't judge Megan for her relationships.
Owen was so sweet! His interactions with Megan were so good! They really saw through each other. The two start off as friends then gradually grow to be something more. It did take awhile and I enjoyed how slow-burn it was.
Megan and Owen agree to help each other. Megan will help Owen with his play, while he will help Megan to get the attention off his friend Will. They really did bring out the best in each other. Their growth due to their relationship was amazing! Most off their conversations were so funny too!
There was diversity! Owen was Japanese, Anthony black and gay, and Alyssa Spanish. Each of the characters identities were integrated so well into the story. You do have the chance to see Megan's exes. And see kind of a pattern with her relationships. Even in her new crush Will. It was interesting to see the difference between Megan's relationship with Tyler vs. Madeleine's.
All the main characters' had fantastic development! It was nice to read about Anthony's relationship woes alongside Megan's. I liked how conflict arouse with her friends in the beginning of the book. Usually it happens towards the end but not here. Their conflicts made all them stronger and their relationships with one-another improved. I felt for all of them. 
Family also played a huge role. Megan's parents are divorced. With her father remarried and half-siblings. Her mother was in a relationship, but Megan assumed her mother hadn't moved on from the divorce. She truly believed that she was replaceable. As Megan's step-mother was pregnant. Megan struggles with this for a majority of the book. I was happy when Megan realized she was wrong. I enjoyed reading about her relationships with each member off her family. Especially her half sister Erin. 
I did have some problems with the book. I was pretty mad at Owen for cheating on his girlfriend. I can't believe it was Megan who had to remind him off Cosima! There was so much cheating. I didn't expect that at all. And despite Megan being comfortable with herself there were still people who slut-shamed her.
I don't really know how to feel about the Alyssa situation. Part off it felt like a cop-out. Just an easy way for Megan to the opportunity to play Juliet. While I do understand that Alyssa cut it close to the checks, it just wasn't portrayed that well. 
Overall I thoroughly enjoyed this book! I recommend it for contemporary fans.