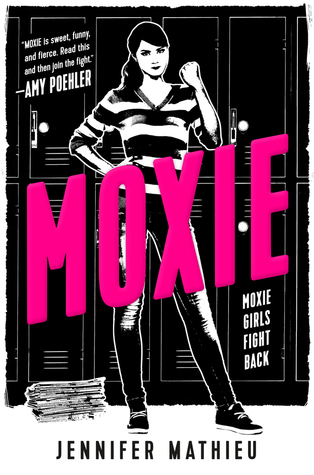 My Rating: 4 Stars
Moxie girls fight back!
Vivian Carter is fed up. Fed up with her small-town Texas high school that thinks the football team can do no wrong. Fed up with sexist dress codes and hallway harassment. But most of all, Viv Carter is fed up with always following the rules.
Viv's mom was a punk rock Riot Grrrl in the '90s, so now Viv takes a page from her mother's past and creates a feminist zine that she distributes anonymously to her classmates. She's just blowing off steam, but other girls respond. Pretty soon Viv is forging friendships with other young women across the divides of cliques and popularity rankings, and she realizes that what she has started is nothing short of a girl revolution.
Beware spoilers ahead!
Trigger warning: Rape, blackmailing, harassment, bullying, slut shaming, mention of accident, sexism, misogyny, and mention of death.
Vivian is used to everything. She's used to behaviour of the boys. Used to all the sexist jokes, and the boy being able to get away with everything. Until Lucy transfers. Lucy is the new girl and the latest victim of Mitchell's harassment. Viv puts her foot down. Why should she and the rest of the girls have to deal with this?! Viv using inspiration from her mother's Riot Grrl days creates Moxie. A zine for all the females. A revolution forms. But can they hold out against the school board and most of the male population?
I had seen Moxie on Goodreads and Twitter. I didn't care much for the synopsis. I went to the bookstore and saw it on the shelves. Out of curiosity I picked it up. I am happy to say that I enjoyed it!
The book is written in first person limited following Vivian. There are chapter numbers. And pictures of the zines that she makes. Which could sometimes take about three pages.
I'm really surprised that I was able to enjoy it! The synopsis read like one of those feminist books, that don't turn out that good. I can happily say that I was wrong! What I appreciated the most was the diversity! Some feminist books are actually white feminism in disguise. Which was not the case here. There were WOC and some LGBTQIA characters. And all were done so well!
I really liked Viv! Her journey through creating Moxie was incredible. I loved that she decided to take a stand for the sake off helping her fellow women. This really is an empowering book about fantastic female friendships!
Claudia is Viv's best friend. The two have done everything together since they were children. Their friendship is tested once the Moxie zines start coming out. Claudia like Viv has gotten used to the system. She's not quite a fan of it being questioned. Of course Claudia doesn't like the system or the general treatment, but she's used to it. This is partly why Claudia didn't like Lucy in the beginning. Lucy questioned everything and where she came from things were better. She does warm up to Lucy. And makes up with Viv.
Lucy was such a fun character! It was nice to read about her observations on how odd the school was. She was alone in the beginning, but Moxie brought Viv and her together. Lucy and Claudia were on rocky terms in the beginning. The two do become good friends.
Even the typical blonde cheerleader played a huge role. Viv and every other female were under the impression that Emma had a lot to gain from the system. Partly because she was pretty and didn't seem to mind the status quo. Emma turns out to be so much more! I really appreciated how the author handled women.  
I liked Viv's relationship with her family! Her grandparents were very sweet. And her mother served for the inspiration of Moxie. Her mother's past was so cool and interesting! I love that she fought for the things she loved.
Her and Viv do get into a bit of a rough spot. Her mother's new boyfriend plays a huge role in this. As Viv felt that her mother was changing because of said boyfriend. The two make up when Viv starts seeking her mothers advice. Viv also felt that her family wouldn't support her on Moxie. Much to her surprise they did and were proud of her.
Viv's crush Seth also played a huge role, outside of the love interest. Seth actually caught Viv when she put out the first zine. He decided to keep it a secret. And found out cool. He became her go to person for occasional advice. There was a slow burn romance between the two which I liked!
If it wasn't obvious with the trigger warnings this book was hard to read. There are a lot of hard subjects brought up. And while I think they were dealt with properly, it didn't make it any easier.
It's not just the male student body that sucked, it was even the female teachers. The school board and the mentality of the town. The behaviour of these characters truly disgusted me. I spent a lot of my time reading furious at all the things that happened. Which I'm assuming was the author's intention. Kudos to the author.
I also want to point out that I never felt that Moxie drove away male allies. Towards the end of the book the girls team up for a Moxie walkout. Seth and some of his male friends join this walkout in solidarity of the girls'. I thought that this was really powerful! Don't believe what Kirkus says.
Overall I thoroughly enjoyed this! I highly recommend.