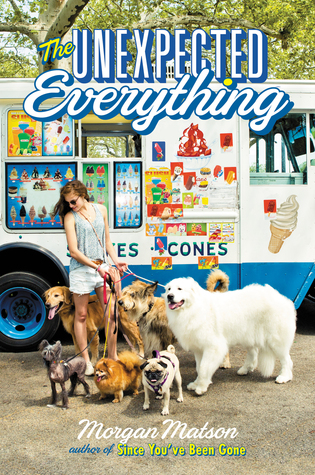 The Unexpected Everything by: Morgan Matson
My Rating: 3 Stars
Andie had it all planned out. When you are a politician's daughter who's pretty much raised yourself, you learn everything can be planned or spun, or both. Especially your future. Important internship? Check. Amazing friends? Check. Guys? Check (as long as we're talking no more than three weeks).
But that was before the scandal. Before having to be in the same house with her dad. Before walking an insane number of dogs. That was before Clark and those few months that might change her whole life. Because here's the thing—if everything's planned out, you can never find the unexpected. And where's the fun in that?
Beware spoilers ahead!
The Unexpected Everything was recommended to me by my dear friend on GR Mith! Click on her name to read her review. At the time this was coming out I'd already read Matson's contemporary books. Of course when I heard about The Unexpected Everything I added it to my TBR. I am happy to say that I enjoyed it!
I read The Unexpected Everything back in June 2016. I don't really remember a majority of the details that well. Andie's fathers campaign has a money scandal. Due to this she can't participate in her internship program. As that was lined up using her father's connections. Instead Andie meets Clark and applies for a dog walking job.
I liked The Unexpected Everything! Objectively speaking this is Matson's best work. The Unexpected Everything is written in first person following Andy's point of view. There are text messages that have emoji's, books quotes, and flashbacks.
The dogs were so much fun to read about! Each dog had his/her own personality. Andie's job is quite rare in YA. Initially Andie didn't enjoy the job. She grew to love all the dogs and the job itself.
The friendship was amazing! Andie and her friends were so close. They all supported each other. It's really nice to read a YA contemporary without all the girl-hate. The drama that does happen was realistic and handled well. I like to think that Tody and Bri do make-up.
Andie and her father's relationship is complicated. When Andie was young her mother passed away. Since then her and her father have been distant and barely communicate with one-another. Throughout The Unexpected Everything Andie and her father mend their relationship. It was absolutely beautiful! If you've read any of Matson's books you'll that she seems to have a love-hate relationship with the fathers in her books. This is evident in Amy and Roger's Epic Detour and Second Chance Summer. Matson redeemed that in this book.
Andie and Clark's relationship was so cute! They have sort of an insta-attraction when they meet. Initially the relationship didn't seem likely to workout due to how guarded Andie is. They got an opportunity to open up to each other and that definitely helped. They each grow from their relationship.
Andie comes to appreciate her father more based on Clark's relationship with his father. I especially enjoyed reading about Clark's relationship with Andie's friends. My favourite was Clark's relationship with Andie's father. Also Clark is the author behind those quotes throughout the book. I didn't know this in the beginning so I actually tried looking up his name on google.
Andie was actually frustrating to read about in the beginning. She was very guarded when it came to her relationships. Specifically of the romance kind. Andie also likes to be in control of everything. Which does lead to the major conflict. Through her relationships with her friends, Clark, her co-workers, and her father Andie begins to open up more. This causes her to come to some realizations about herself. 
This is going to get a bit personal so here goes. I saw a lot of myself in Andie. I too like to be prepared and in control of most situations. Once I came to this realization I took a break from blogging. I wasn't happy that my life had pretty much become about books. I felt way too much pressure about reviewing and how many books I would read in a month. No one else put that pressure on me. I did that to myself. It was a much needed break. And now I've come back happy. 
My only problem was that sometimes it dragged. Honestly there were times while reading that I wanted to sleep. I couldn't rate it higher because I didn't love it. While I can acknowledge that it is Matson's best book, it's just not my favourite.
Overall I enjoyed The Unexpected Everything! I highly recommend it.