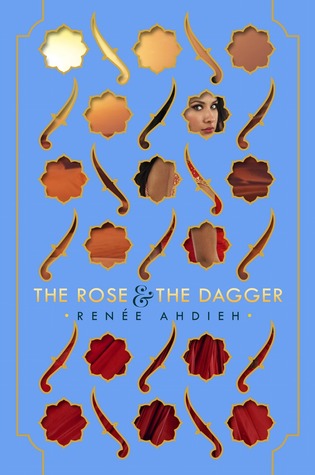 The Rose & the Dagger by: Renee Ahdieh
My Rating: 2 of 5 Stars
The darker the sky, the brighter the stars.
In a land on the brink of war, Shahrzad is forced from the arms of her beloved husband, the Caliph of Khorasan. She once thought Khalid a monster—a merciless killer of wives, responsible for immeasurable heartache and pain—but as she unraveled his secrets, she found instead an extraordinary man and a love she could not deny. Still, a curse threatens to keep Shazi and Khalid apart forever.
Now she's reunited with her family, who have found refuge in the desert, where a deadly force is gathering against Khalid—a force set on destroying his empire and commanded by Shazi's spurned childhood sweetheart. Trapped between loyalties to those she loves, the only thing Shazi can do is act. Using the burgeoning magic within her as a guide, she strikes out on her own to end both this terrible curse and the brewing war once and for all. But to do it, she must evade enemies of her own to stay alive.
The saga that began with The Wrath and the Dawn takes its final turn as Shahrzad risks everything to find her way back to her one true love again.
Beware spoilers ahead!
Buddy read with Waukesha, Luke, and Adita! Once their reviews have been posted I'll add the links.
For those of you that followed me back in November probably know that I did not enjoy The Wrath and the Dawn. You're probably wondering why I bothered to continue this series. Part of it was curiosity. It was curiosity that got me to finish all the short stories. After I finished The Mirror in the Maze I was curious to see how the series ended. It came in my library I put it on hold. While I did enjoy this more than the first book I can't say I'm happy with how this series ended. 
The book begins with a prologue in which a little girl and her brother are trying to restore their house. A storm blew their house over. Unfortunately the storm killed their mother. While the girl and her brother start clearing the area a boy appears in their door. The girl realizes that this boy is the prince. The prince mentions that he would like to help the girl and boy with their home. The brother agrees and they continue to work.
After they have finished most of the work the brother asks for the princes name. The prince says that his name is Khalid. The brother introduces himself. And the girl turns out to be Shiva.
The plot in this book was much better than the first! There was a large focus on the war and some politics. The magic was interesting to read about as were the new characters. There wasn't that much focus on Shazi and Khalid's relationship. I actually found Khalid to be much smarter in this book. He started acting like a King. I enjoyed reading about Shazi's sister Irsa! She was so refreshing to all the strong and confident females you read about. And I absolutely loved her romance! Rahim was so sweet! All of the twists and reveals were very surprisingly. Especially concerning Despina. There was this really sweet scene were Shiva comes in! 
Shazi and Tariq were the same. Which is to say annoying. I actually noticed an error while reading this book. In the beginning of the book it is mentioned that Shiva's mother died in the storm. Yet when Shazi and Tariq are talking about Shiva, it's mentioned that his aunt (Shiva's mother) committed suicide. Please do correct me if I'm wrong. The curse was pushed aside in this book. You'd think with it being deal in the first book it's reduced to nothing in this book. The magic wasn't really explained.
I also wished that Irsa and Rahim were the main characters as I would've preferred to read about their romance. You are given constant reminders in this about how strong the women are. In the form of a stupid man touching her. And said women defending herself. How was it that most of the men Shazi ran into were pervs? I am not at all happy with how Irsa and Rahim's romance was dealt with. While the epilogue was somewhat sweet it left a bitter taste in my mouth. I'm really not happy with a certain part of the ending.
Overall this was not a good conclusion in my eyes. But I still recommend it to fans of forbidden romance and fairy tale retellings.